Robustly designed and manufactured for commercial and industrial washing applications, our heavy-duty, multi-stage, closed loop treatment systems treats the wash water so it can be used continuously without any discharge to the sewer or surroundings.
Stage 1 – Solids Settling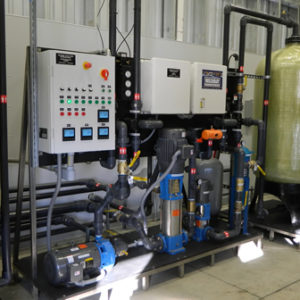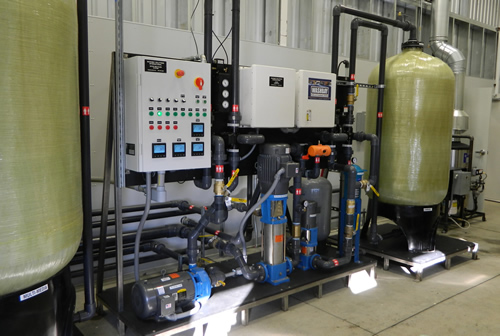 Many commercial washing operations produce a generous amount of solids so the first stage of our filtration process is the solids handling system. We help you develop site-specific solutions to eliminate as many solids as possible before running the water through to the next stage of filtration. Solutions include custom-designed sumps, basins, trenches or screening systems.
Stage 2 – Oils & Solids Separation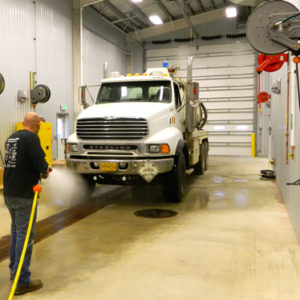 After the coarse solids settling, the water is processed through a multi-compartment stainless steel clarifier oil-water separator, which separates out smaller suspended solids, oil and water. In the first compartment, free oils float to the surface.  In the second section, the stainless steel clarifying plates remove coarse amounts of oil and as much Total Suspended Solids (TSS) as possible.  The angles of the non-clogging plates are 55° which allows solids to slide down the plates into the solids hopper, where they can easily be pumped out.   Next, the water goes through our coalescing media which removes essentially 100% of all free and dispersed non-emulsified oils so the FOG effluent concentration can be as low as 5 ppm.
Stage 3 – Water Filtration, Odor Reduction & Polishing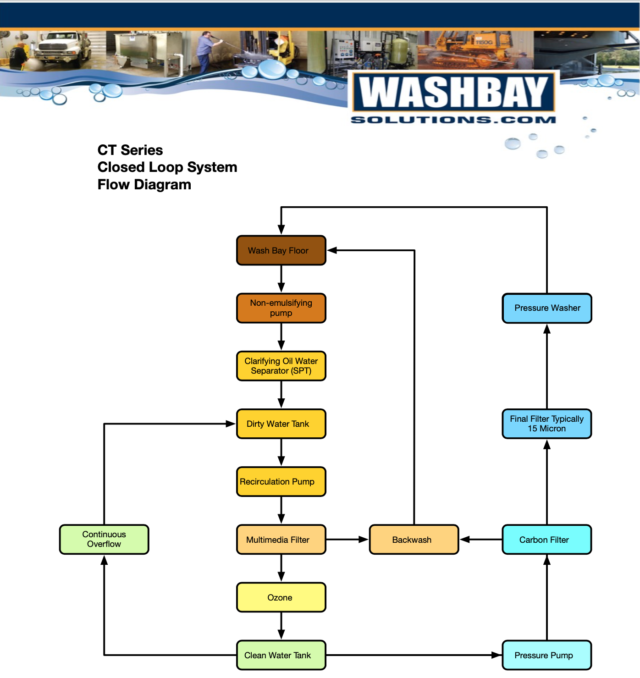 After the clarifier oil-water separator, the water is pumped though several filtration steps including multi-media (sand, gravel, anthracite), blended activated carbon, polishing filter, and corona discharge ozone. These filters reduce odors and any contaminants to fewer than 10 microns in size, including emulsified oils, waxes, and other volatile organic compounds. The amount of media, carbon, ozone and water storage volume are typically customized to meet your particular application.
Closed Loop System Features
Non-Ferrous Construction – Stainless Steel, PVC, Fiberglass
Fully-Automatic, pre-wired
Multi-Stage / Multi-Pass Filtration
Clarifier Separator System

Stainless Steel Clarifier Oil/Water Separator with 55° Hopper
Advanced European coalescing media designed to remove oil droplets greater than 20 microns
Electric or Air Diaphragm pump with controller
Closed Loop Filtration System

Automated Self-Cleaning Multi-Media and Carbon Fiberglass Filter Tanks
Heavy-duty, high efficiency Re-Circulation Pumps
Heavy-duty high efficiency Re-Pressurization Pumps
Transfer pump to pump water from clarifier separator to system
Heavy-duty Ozone System to control odors (up to 32 gms per hour)
(2) Poly water storage tanks – UV Protected
Sensors and interconnecting Schedule 80 plumbing
NEMA-4X  control panel
PLC controller for automatic back wash operations
All components mounted on heavy-duty stainless steel skid
Depending on the location, many options are available to maximize the efficiency of the wastewater treatment system including:
Optional Features
Can be configured with existing equipment
SCADA and remote monitoring UL/CSA Listing
Transportable equipment rooms
Rain Diverter Systems
Chemical/Acid/Salinity Resistant Pumps & Components
pH control system
TYPICAL CLOSED LOOP SYSTEM SPECIFICATIONS
MODEL
CT-10/10
CT-35/20
CT-65/50
CT-100*
DESIGN FLOW RATE, GPM
1-10
1-25
10-55
30-100
COALESCING PLATE AREA, SF
41
124
211
400
COALESCING MEDIA, CF
4
8
24
48
CLARIFIER SEPARATOR SIZE, FT (WxLxH)
3 x 7 x 5
3.5 x 8 x 6
4 x 10 x 6
5 x 11 x 7
NON-EMUSIFYING INFLUENT PUMP, GPM MAX
20
50
75
125
MULTI-MEDIA, LBS
300-500
500-1000
2500-2600
3700-4200
ACTIVATED CARBON, CF
4-15
10-40
20-40
40
POLISHING FILTER, SET
1
1
1
1
RECLAIM RE-CIRCULATION PUMP, HP
1.5
1.5
3
5
RECLAIM RE-PRESSURIZATION PUMP, HP
1
3
5
7.5
DIRTY WATER STORAGE VOLUME, GAL
500-750
500-1000
750-1500
1000-2500
CLEAN WATER STORAGE VOLUME, GAL
500-750
500-1000
750-1500
1000-2500
OZONE SYSTEM, GRAMS/HR
8-16
8-32
16-32
32
RECLAIM CONTROL SYSTEM
PLC, Automatic, Manual or Off
RECLAIM PUMP FRAME SIZE, FT (WxLxH)
(TANKS ADDITIONAL)
4 x 6 x 6.5
4 x 8 x 8
POWER REQUIREMENTS
208 / 240 V 1 ph   or  208 / 240 / 480 V 3 ph
* LARGER CAPACITY SYSTEMS (200-1500 GPM) ARE AVAILABLE
APPLICATIONS:
Admin