Our standard media has vastly superior properties compared to the traditional media used in oil-water separators. These properties result in a more efficient and effective separation than that attained by traditional coalescing media.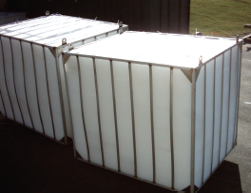 A larger amount of surface area per cubic foot of media allows for greater oil drop coalescence. This media has 132 ft2/ft3 surface area for oil droplets to contact. Other typical coalescing media have about 48 ft2/ft3 to 68 ft2/ft3.
A more efficient first step separation reduces the need for a second polishing step. Our media removes 99.9% of oil droplets 20 microns in size and larger. This meets EPA Method 1664 Revision A and European Standard EN 858-1.
An open design eliminates trapping of particles and subsequent clogging of water channels. Oil water separators with this media require fewer maintenance shut-downs and separates oil and water faster.
Where higher-than-normal operating temperatures are required, our media outperforms its competitors. It works effectively in temperatures up to 212°F, versus a maximum temperature of about 120°F for competing media.

Give us a call at 800-453- 8639 for more information!
Admin