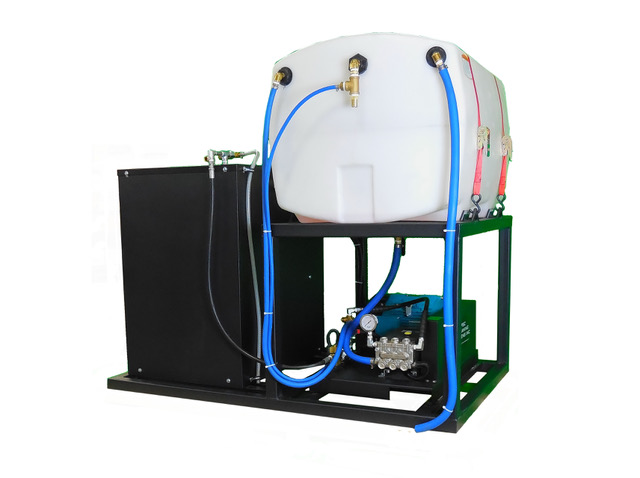 Our industrial-grade pressure washers are exceptionally well-engineered systems built to perform for years in industrial washing applications. Although each unit is rated at a certain flow rate and pressure, we add our "variable flow" feature to each washer. Available exclusively on our power washers, this innovative feature allows the operator to vary the flow rate and corresponding pressure at the wand when needed – providing tremendous flexibility when cleaning different equipment and surfaces.
Another unique feature to our power washers is that they produce instant hot pressurized water. There is no 1 to 3 minute warm-up time required or wait time for busy personnel due our thermo blanket-lined tank that provides almost 100% energy efficiency.
The third extraordinary added value of our power washers is their long-lived and low maintenance immersion heating systems. These immersion heaters, as opposed to direct heaters, heat water in a water storage tank, and that water heats the water in our heat exchangers. Therefore, there is no hard water scale build-up on the heating element so we can offer a three-year warranty on our heaters.
Features:
CSA approved
Fully automatic
Environmentally friendly / no exhaust fumes or open flame
2 year heater coil warranty / 3 year heater element warranty
Belt-driven, oil-bath plunger pump
Auto start / stop circuit controlled by trigger gun activation
Large 80 and 130 gallon heat exchanger tanks allow for continuous recovery to maintain optimum performance
No hard water scale build up or heater element to burn out as no direct immersion of elements allowed into water being pumped
Transfer fluid in heat exchanger treated to prevent corrosion or galvanic action
Thermo blanket lined tank provides almost 100 % energy input / output efficiency (all power is used to heat water)
Thermostatically controlled heat exchanger with low water shut off
Downstream chemical injection (8gpm or larger models include upstream chemical injection)
Cold water through pump for long life
Automatic high temperature shut down (thermo probe) for pump protection
Ideal for centralized systems with multi-station outlets
Available with 24, 48, 72 & 99 kW input and working pressures of up to 4000 psi
Includes 50 ft. steel braid pressure hose, trigger gun, variable pressure wand and hardened stainless steel nozzle (8 gpm or larger models include 2 sets)
Multi-gun systems for high capacity cleaning
Options
CWBS
Cold Water Bypass System, instant change from hot to cold water applications.
CWBS
Cold Water Blasting System (to bypass the heater for cold water blasting applications) includes extra 50′ x 1/2″ high pressure hose and water blast gun with side handles.
PCA
Portable Cart Assembly for electrically heated units c/w 6″ locking casters and push handle.
HD-PCA
Heavy Duty Cart (Trolley) Assembly c/w heavy duty frame, 6″ locking casters, push handle or tow bar, allows for mounting of extra equipment such as hose reels etc.
SRA
Surge Relief Assembly (must be installed on the domestic water supply when the supply line has a back flow preventer, pressure reducing or check valve present).
SA
Nitrogen Charged pump pulsation Surge Arrestor.
CLS
Cleaning Station assembly, (for multi user applications) c/w 1/2″ ball valve and hose quick connect.
CS-1
Chemical Injection Station, (for multi user applications) c/w adjustable chemical injector, wash/rinse control valve and swivel connection.
CS1-SSB
Chemical Station, (as above) housed in lockable stainless steel panel.
Electric Pressure Washing Systems
Flow
Pressure
Heater
Motor
TOTAL AMP 3-Phase
Size-Inches
MODEL
GPM
PSI
Input
H.P.
208V
460V
575V
W"xL"xH"
WB411-24
4
1100
24KW
3
72.3
33.3
26.6
24/32/50
WB411-48
4
1100
48KW
3
134.8
62.2
49.7
24/32/50
WB419-24
4
1900
24KW
5
77.1
35.5
28.4
24/32/50
WB419-48
4
1900
48KW
5
139.6
64.4
51.8
24/32/50
WB419-72
4
1900
72KW
5
—
93.3
74.4
24/32/50
WB429-24
4
2900
24KW
7.5
85
39.1
31.3
24/32/50
WB429-48
4
2900
48KW
7.5
147.5
68
54.4
24/32/50
WB429-72
4
2900
72KW
7.5
—
96.9
77.6
24/32/50
WB440-48
4
4000
48KW
10
154
70.9
56.7
24/32/50
WB440-72
4
4000
72KW
10
—
99.8
79.9
24/32/50
WB530-48
5.4
3000
48KW
10
154
70.9
56.7
24/32/50
WB530-72
5.4
3000
72KW
10
—
99.8
79.9
24/32/50
WB520-48
5.6
2000
48KW
7.5
147.5
68
54.4
24/32/50
WB520-72
5.6
2000
72KW
7.5
—
96.9
77.6
24/32/50
WB612-48
6
1200
48KW
5
139.6
64.4
51.8
24/32/50
WB620-48
6
2000
48KW
7.5
147.5
68
54.4
24/32/50
WB620-72
6
2000
72KW
7.5
—
96.9
77.6
24/32/50
WB812-48*
8
1200
48KW
7.5
147.5
68
54.4
53/48/40
WB812-72*
8
1200
72KW
7.5
—
96.9
77.6
53/48/40
WB820-48*
8
2000
48KW
10
154
70.9
56.7
53/48/40
WB820-72*
8
2000
72KW
10
—
99.8
79.9
53/48/40
WB830-48*
8
3000
48KW
15
165
75.9
60.7
53/48/40
WB830-72*
8
3000
72KW
15
—
104.8
83.9
53/48/40
*Comes with two hoses and wands.
Benefits of an Electrical Pressure Washer vs. a Gas-fired System
Less Construction Delays & Costs – During construction phase of building, an electric unit will reduce installation time, costs, and eliminate delays. The use of an electric pressure washer will reduce the number of tradesmen needed, as well as the permits needed to install the system. We can install the electric unit with just an electrician. The installation of a gas-fired pressure washer requires two additional permits: a HVAC permit for the roof penetration and a gas-piping permit.
Greater Reliability – Electric units are, in general, much more reliable than their gas-fired counterparts. Typically, the fireside of the pressure washer requires more service and a licensed gas contractor to fix the system. The electric unit eliminates main gas valves, a pilot gas valve, and a gas valve main controller. These items are the source of problems which the prevent operators from washing equipment.
Less Liability – No gas means no fire. If part of the gas controller fails, there exists the possibility of explosion, or a burned employee.
Lower Operating Costs – Due to a recent rise in natural gas prices, it costs less to operate an electric unit than a gas/propane unit.
Admin