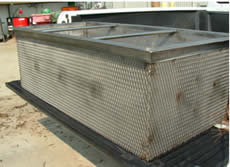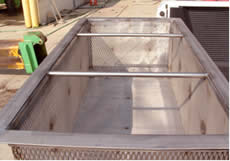 Our Wash Bay Solutions Stainless Debris Baskets are designed to both protect the equipment and help control costs associated with solids removal from wash bay sumps. The baskets are for washing applications with an average amount of solids. The baskets fit snugly into the sump and catch all solids from the wash bay before they reach the recycle systems. When the basket is full, personnel remove it and set it to the side to dewater. A second basket can then be placed into the sump and washing can continue. Once the sediment in the first debris basket is de-watered, it can be easily disposed of according to local enforcement agency regulations.
Applications:
Heavy Equipment Washing
Aircraft Maintenance
Truck & Bus Washing
Forklift Wash Facilities
Military Bases
Benefits:
Low Maintenance
Heavy Duty Construction
Impervious to Non-petroleum Materials
Easy to Install
The baskets are constructed of stainless steel plates and stainless mesh. They come in standard sizes or custom sizes to fit into an existing sump. One or two handles on each basket make them easy to move around.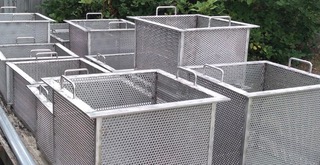 Admin