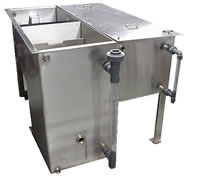 Location: Morganton, NC
PROBLEM:
The facility had an old oil water separator system that was no longer working well. City environmental officials had visited the facility and mandated that the facility install a new system.
Since this facility was discharging to the city sewer system, city officials gave them a very short period of time to correct the situation.
SOLUTION:: Using their existing trench system, we designed an automatic pump transfer system that would transfer the oily water to the new oil water separator when the water in the trench got to a certain height.
Since time was an issue, we modified our production schedule to meet the city's installation date demands. Funding was also an issue so we also worked with a leasing company to secure a simple, short-term equipment lease for the customer.
DATE INSTALLED: May 2008
RESULTS:Customer is very pleased with the system and city environmental officials are happy with the effluent from the oil water separator.
Admin