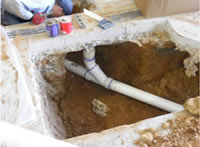 PROBLEM: As part of a Phase 1 audit for a purchase transaction, engineers discovered that old piping within a car dealership service bay was discharging wastewater to the local stream. The environmental audit company and the car dealership enlisted our help to design new wash bay piping and install a new sewer pretreatment system.
SOLUTION:: The car dealership had multiple wash bays and a large service area. We worked with the environmental engineers and plumbing contractor to design and install a new under-concrete piping system with our sewer pre-treatment system. The new piping system will collect oily wastewater from all of the wash bays and service areas and send it to the SPT Series system to be processed before discharge to the sewer.
DATE INSTALLED: March 2008
RESULTS:The purchase transaction was smoothly completed and the facility is operating well within environmental regulations.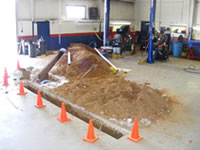 Admin