November 2, 2018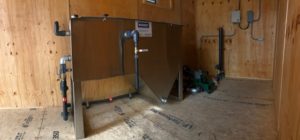 ---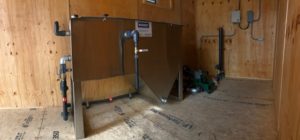 Problem: A metals dealer and recycling company had a small wash outside area with a 900 gallon in-ground concrete sump adjacent to it. The sump captured both the wash water and storm water coming off the pad. Contaminants included compressor oil, motor oil, transmission fluid and gasoline.
The company called and asked us for suggestions on how to treat the water before discharging to the sewer. The nearest building to the sump was several hundred feet away and they had very limited area inside it to install an oil water separator.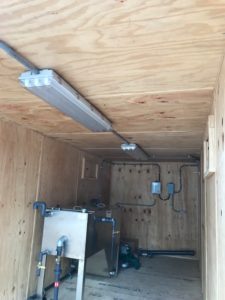 Solution: This was a perfect application for our transportable equipment rooms. To treat the water, we installed an oil water separator with an electric diaphragm pump in a 20′ long container, our TER-20. Since the client was located in a northern climate, we added insulation and a heating system to the TER-20 to guard against freezing issues.
We placed the TER-20 on a pad adjacent to the in-ground sump and it took less than a day to hook up all of the electrical and plumbing lines to make the system operational.
Using the TER-20 saved the client building costs and provided additional storage space. It also allows them the flexibility to move the entire oil water separator system to a different facility when needed.
---