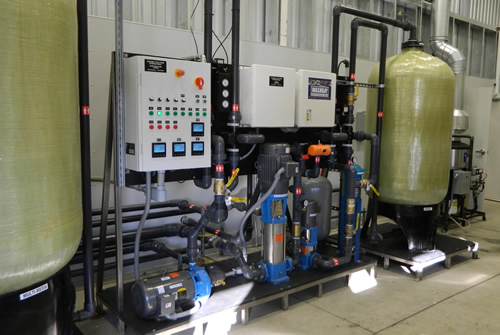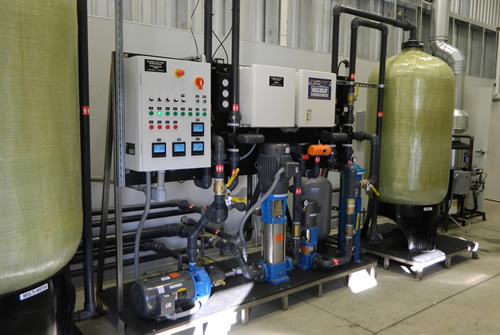 The VR Series Systems are custom-engineered, heavy-duty systems, designed to be completely closed-loop with no external discharge. They incorporate an extremely efficient, patented filtration process utilizing fully automated solids filtration and activated carbon (GAC) polishing filtration, and a corona discharge ozone generator to prevent odors.
Processed water passing through the VR system will be free of particles greater than 10 microns in size, substantially all emulsified oils, waxes and other volatile organic compounds.
If water shortages and drought conditions are impacting your business, the VR Systems will help you reduce your fresh water usage, sewer discharge costs and local impact fees.
Why Do I Need a Re-Cyke® VR System?
The easiest way to reduce your water costs is to reduce your fresh water usage. Recycling wash water also eliminates EPA and local impact fees, reduces sanitary sewer costs, and water restrictions. VR Heavy-Duty systems are designed for washing cars, trucks, buses, equipment and other vehicles with sand, dirt, oil, and other commercial/industrial surface layers.
How Does the Re-Cyke® VR System Work?
The Re-Cyke® VR Recycling System pulls the used wash water through the gravity separation system to initially remove some solids, free oils, greases, and waxes. The water is then pumped through multiple solids and polishing filters. The water's flow is injected with ozone gas for constant bacteria destruction and odor elimination. The treated water is constantly recirculated in a storage tank and re-pressurized for reuse upon demand.
STANDARD FEATURES: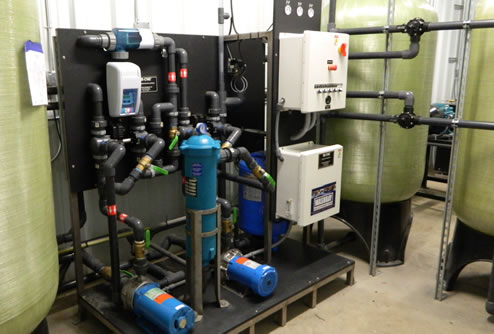 High-Efficiency Self-Priming Filter Pump
Corona Discharge Ozonation System
Multi-Stage / Multi-Pass Filtration
Solids Filtration to 5 Microns
Pressurized Carbon Polishing Filter
High Efficiency Repressurization Pump
Auto-Backwashing Filters
Low Operating & Maintenance Costs
Minimal Service Attention
OPTIONAL FEATURES:
Can be configured with existing oil/water separators
Available in partial reclaim or total closed loop configurations
PLC control with remote monitoring
Complete system enclosure
Modular systems up to 500 gpm
ORP / pH control system
U.L. Listing
VR SERIES SYSTEM SPECIFICATIONS
MODEL
VR-5
VR-10
VR-35
VR-65
VR-100
FLOW RATE
1-5 gpm
1-10 gpm
5-35 gpm
30-75 gpm
60-110 gpm
RE-CIRCULATION PUMP
3/4 hp
1 1/2 hp
3 hp
3 hp
5 hp
INLET
2"
2"
2"
2"
2"
OUTLET
1"
1"
2"
2"
2"
RE-PRESSURIZATION PUMP
1/2 hp
1 hp
3 hp
5 hp
7.5 hp
WEIGHT  (lbs.)
625
650
750
850
950
KW (max.)
1.8
2.0
3.0
4.0
5.0
OZONE SYSTEM
Up to 32 grams of ozone per hour
CONTROL SYSTEM
Automatic, Manual or Off
FOOTPRINT SIZE
34" W X 66" L
34" W X 66" L
POWER REQUIREMENTS
208 / 240 v 1 0   or  208 / 240 / 480 v 3 0
Admin