Why Do I Need a Re-Cyke® TWB System?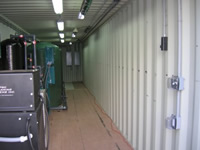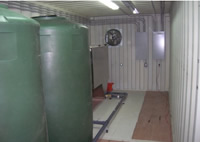 These complete wash systems are ideal for washing equipment and vehicles at sites without incurring any construction costs, delays, or permanent structures. Used on military bases, construction sites, and at any facility requiring transportability, these cost effective systems can be configured for a wide range of applications and up and running in a few weeks. Recycling wash water also eliminates EPA and local impact fees, reduces sanitary sewer costs, and water restrictions.
How Does the Re-Cyke® TWB System Work?
The complete system consists of a self-contained aboveground wash pad and an enclosed equipment room. The pad includes a 12" high ramped structure capable of handling up to 40 tons/axle and tracked vehicles, an integrated water collection system to isolate solids and divert liquids, and a solids wash-down feature. The enclosed equipment room sits adjacent to the wash pad and contains complete water recycling, high-volume demucking, and high-pressure washing equipment.
As vehicles are cleaned on the pad, the wash/rinse water collects beneath the pad and is transferred to the closed loop recycling system for treatment and reuse so there is no off-site discharging. The solids removed from the vehicle are automatically washed to a collection section for future removal and disposal.
STANDARD FEATURES:
Elevated Wash Pad with Ramp
Totally Transportable in Modular Sections
Designed for drive-through or in-out operation
Heavy steel I-beam support framework
Unique fluid/solid separation weirs
High Volume Demucking Equipment
Available in 10 tons/axle & 40 tons/axle
Enclosure:
40' enclosure is steel, aluminum, or stainless
Power panel, receptacles and lighting
Automated fans/louvers or insulated with full HVAC system
Pre-plumbed and wired
Secondary containment for all fluids
Equipment Included in Enclosure:
Complete closed-loop water recycling system
Water management tanks with waste oil and solids storage
PLC-controller with remote monitoring and SCADA capability
Hot or cold water pressure washer
Optional high volume/low pressure Demucking system
Non-chemical water dis-infectiing ozone generator
Fully automated, requires minimal maintenance
All equipment UL/CSA listed
TWB SERIES SYSTEM SPECIFICATIONS
MODEL

TWB-5

TWB-10

TWB-20

TWB-35

FLOW RATE

1-5 gpm

1-10 gpm

5-20 gpm

5-35 gpm

RE-CLAIM SYSTEM

3/4 hp

1 1/2 hp

3 hp

3 hp

INLET

2"

2"

2"

2"

OUTLET

1"

1"

2"

2"

WATER STORAGE TANK VOLUME

500 GAL

1000 GAL

1000 GAL

1500 GAL

PRESSURE WASHER

4 GPM

650

700

750

KW (max.)

1.8

2.0

3.0

3.0

OZONE SYSTEM

Up to 32 grams of ozone per hour

CONTROL SYSTEM

Automatic, Manual or Off

ENCLOSURE

40' Steel Enclosure, pre-plumbed and wired Automated fans/louvers or insulated with full HVAC system

POWER

Power panel, receptacles and lighting 208 / 240 V 1 ph 208 / 240 / 480 V 3 ph
Admin