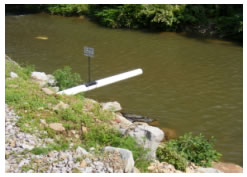 A West Virginia re-manufacturer of heavy-duty electric motors for both the industrial and the coal industries was having major issues complying with the latest EPA rules. In the mid 1980's, they were granted a NPDES permit to discharge the treated wash water to a local tributary.
Over the years, the requirements for the permit grew tighter and tighter. By 2010, the permit requirements were becoming quite onerous. Some of the issues included:
Tighter limits of the original testing parameters and the addition of new requirements to test for metals
The ever increasing the cost of compliance (They were spending $1100/mo on water analyses)
The prospect they may not be granted a permit renewal.
They feared that they could be told to shut down the wash bay operations if they did not meet permit requirements. Shutting down the wash bay would cause many production issues and was just not a viable option. So they contacted Wash Bay Solutions for help.
We first reviewed their permit requirements, as well as reviewed their wash bay needs and facilities. One of their particular issues was a lack of extra plant space to house any additional treatment equipment. After a review of their wastewater analyses and understanding their production washing requirements, we recommended our closed loop water reclaim system that would eliminate the need for the NPDES permit. Additionally, we offered our Transportable Equipment Room (TER) that could be set outside adjacent to their plant. The TER was designed for tough winter weather conditions to protect the equipment from cold weather and freezing issues.
Once given the go ahead, the entire system was built a transportable equipment room and tested in our factory. The on-site installation was simple. Our customer ran utilities to the TER and within two days, their system was up and running. Their wash bay was never down and their production was never altered. Best off all, they no longer needed their NPDES permit and they were able to cut the pipe delivering water to the tributary.
Scratch one NPDES permit, the cost of compliance, and best of all, the fear of noncompliance. Not bad for a solution in a Box.


Admin