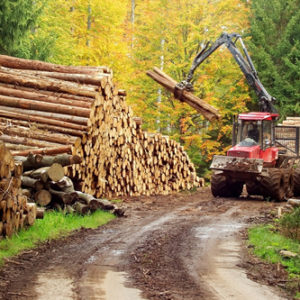 Many land management and forestry companies utilize a multitude of equipment ranging from bulldozers to light utility trucks. Work is often in off-road locations where equipment is exposed to many different elements and collects solids rather quickly, including mud, debris, seeds and spores. Cleaning this equipment is vital to having a successful operation since too many solids can foul the equipment and cause extended periods of down time.
Of particular concern to industry professionals are the plant seeds and spores which are often transported in the mud and debris that is picked up by vehicles and equipment. Effective cleaning, therefore, is critical to reducing the transport of invasive plant species that have the potential to upset the natural balance of plant life and wildlife.
Typical washing and water treatment solutions include:
Mighty Monitor Demucking Systems (Water Cannons)
Our revolutionary heavy-duty Mighty Monitor systems only use 20-60 gpm – approximately 1/10 to 1/20 of the amount of water used in the traditional water cannons. Our systems combine increased pressure and specialized nozzles to ensure a quality wash. Using fresh or recycled cold water, our Mighty Monitors clean quickly and effectively, in half the time of a typical pressure washer.
Portable Wash Containment Pads
Robustly designed for range of industrial applications, our portable wash containment pads can provide an economical alternative to a conventional wash pad. Easily transported and assembled, these wash pads are ideal for remote locations.
Closed Loop Systems
Our Wash Water Treatment Systems are heavy-duty, multi-stage reclaim systems, engineered and manufactured for the heavy industries. They can be customized for particular application and locations.
Admin