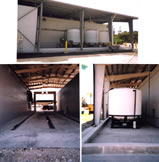 PROBLEM: A new municipal waste management truck wash facilities needed several large water recycling systems to handle the high volumes of water needed for their automated truck wash tunnels. The new facilities required up to 600-gpm of recycled water.
In addition, the systems needed to collect and isolate heavy solids loads, provide strong disinfection for odor and bacteria/BOD control, and filter the water adequately for reuse.
SOLUTION: Washbaysolutions provided 600-gpm engineered systems for each location to collect, treat, disinfect, and store clean recycled water for reuse. Large conical-bottom tanks assisted with the extensive solids removal required, along with screen and basket systems and in-line filters. A large ozone disinfection system was utilized to control the odors and organic contamination.
Automated solids transfer pumps, programmable controllers, and an automated fresh water makeup system enabled the equipment to treat and maintain sufficient clean recycled water for continuous truck wash operation.
DATE INSTALLED: April 2009
RESULTS:The initial two locations have operated successfully since 2003 without any major problems. As the facility maintenance personnel became familiar with the operation of the system and its capabilities to handle the large solids loads, the quality of the recycled water soared above their initial expectations.
Admin