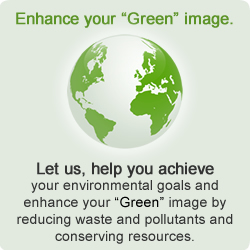 At WashbaySolutions.com, we are committed to helping our customers achieve their environmental goals and enhance their "Green" image by reducing waste and pollutants and conserving resources.
There are many "Green" benefits than can be derived from the use of efficient wash and reclaim systems. In many places, drought conditions have made water scarce and ultimately more valuable. Using lower volume washing systems and reclaiming and reusing water are extremely beneficial for the environment because it saves of large quantities of water. It also helps businesses feel more secure in that they can continue operating even under drought-imposed water restrictions.
Going "Green" is most successful when there are also good business incentives to do so – in other words, when there are significant cost savings while encouraging positive environmental stewardship.
Overall, lower water usage and recycling makes a great deal of sense since it helps to minimize environmental liability, enhance the company's image as a responsible corporate citizen and produce significant cost savings.
http://www.dep.state.fl.us/water/wastewater/index.htm
http://www.protectingourwater.org/transcripts/4/
http://www.athirstyplanet.com/be_informed/what_is_water_reuse/trends
http://www.watereuse.org/association
http://cfpub.epa.gov/npdes/stormwater/menuofbmps/index.cfm?action=browse&Rbutton=detail&bmp=108
Admin