October 6, 2010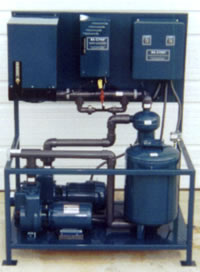 ---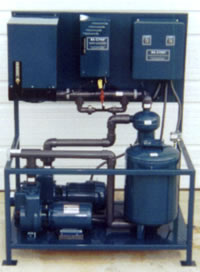 Why Do I Need an ORS System?
Recycling and filtering wash water reduces your fresh water usage as well as eliminates EPA and local impact fees, reduces sanitary sewer costs, and water restrictions. Ozone replaces costly and dangerous chemical disinfectants to eliminate odors and other contaminants in the water.
How Does the ORS System Work?
The ORS Series system settles and separates solids, free oils, greases and waxes. After initial separation, the water passes through a screen filter and then goes into a centrifugal separator. Ozone injected into the water kills bacteria and eliminates odors. The water constantly circulates in a storage tank and through a repressurization system for delivery to the wash equipment.
STANDARD FEATURES:
Large Capacity Filter Screen Pre-filter
High Volume Ozone Generator
Centrifugal Solids Separator
Solids Filtration to 5 Microns
Self-Priming Recirculation/Ozone Pump
High Efficiency Repressurization Pump
Thermal Overload Protector
OPTIONAL FEATURES:
Automated Solids Discharge
Additional Filtration Stages
Complete system Enclosure
Ozone Controller
Remote Monitoring
U.L. Listing
ORS SERIES SYSTEM SPECIFICATIONS
MODEL

ORS-35

ORS-75

ORS-110

FLOW RATE

5-35 gpm

30-75 gpm

70-110 gpm

OZONE SYSTEM

3-16 gm/hr

3-16 gm/hr

3-16 gm/hr

OZONATED WATER VOLUME

500-1500 gal

750-2000 gal

1000-2500 gal

 RECIRCULATION PUMP

1.5 hp

2 hp

3 hp

 INLET

2"

2"

2"

 OUTLET

1"

2"

2"

CENTRIFUGAL SEPARATOR

1" Outlet

1.5" Outlet

2" Outlet

SOLIDS DISCHARGE

3/4"

3/4"

3/4"

WEIGHT  (lbs.)

500

575

625

KW (max.)

3.0

3.5

4.5

 CONTROL SYSTEM

Automatic, Manual or Off

 FOOTPRINT

34" W X 27" D

 POWER REQUIREMENTS

208/ 240 / 480 V 3 PH
---