March 5, 2014
---
Are you washing with dirty water?
Many industries have parts washing systems that are critical to their production. Often used on a continuous basis, they remove heavy oils, dry lubes and machining particles off production parts. Many of these wash systems require constant cleaning and filtration to not to re-contaminate the parts. 
Our oil water separator systems will remove 99.9% of free and dispersed non-emulsified oil droplets in the wash water  – greatly improving the quality of the cleaning water and extending the time before having to dump and re-charge. They will also help drop out particles from the wash water.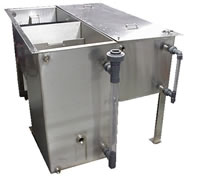 Available in a range of dimensions and flow rates, our oil water separators can be can be integrated easily with the existing parts washing systems and customized with a variety of skimming, monitoring, and pumping packages.  All of our systems are constructed of stainless steel and heavy-duty components for maximum life and performance. 
Benefits
99% Removal of all free oil
Small foot-print – compact design
Low maintenance costs
Solids storage capability
Easily integrated into existing systems
Above Ground Oil/Water Separators
OWS Model #
Dimensions
W x H x L (ft)
Max Flowrate, GPM

WB-GS-1

1 x 2 x 4
3

WB-GS-2

2 x 2 x 4
6

WB-GS-3

3 x 2 x 4
9

WB-GM-1

1 x 2 x 5
6

WB-GM-2

2 x 2 x 5
12

WB-GM-3

3 x 2 x 5
18

WB-GM-1-1H

1 x 3 x 5
12

WB-GM-2-1H

2 x 3 x 5
24

WB-GM-3-1H

3 x 3 x 5
36

WB-AG-2

2 x 3 x 7
60

WB-AG-3

3 x 3 x 7
90

WB-AG-4

4 x 3 x 7
120
---