March 3, 2011
---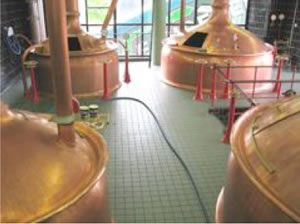 We design and build automated pumping packages and electrically heated pressure washing systems for a variety of applications in the food and beverage industries. These systems will remove deposits, clean and sanitize all types of processing and storage equipment including tanks, conveyors, coolers, evaporators, and mixers. We serve the following food and beverage industries:
Breweries
Dairies
Wineries
Fishing Industry
SmokeHouses
Food Processing
MeatPacking
For cold water wash applications, we have a self-contained mobile ozone sanitation system that provides ozone-enriched cold water on demand for hard surface sanitation and direct food contact applications. The AGW-0500 ships "plug and play" ready and provides 9.5 GPM water flow with a residual ozone dose of approximately 2.0 PPM at the nozzle. With this system and its FDA, USDA and EPA approved antimicrobial agent, you reduce or eliminate potable water rinse steps and overall water use.
Automated Pumping Packages
For the pharmaceutical industry, cleaning and sanitizing is of the utmost concern. At washbaysolutions, we design and build automated tote and mixing tank cleaning and sanitizing systems used in drug and serum manufacturing. These systems are used in the cleaning of both solids and liquids from a range of equipment including tanks, pipes, mixers, tubes, and filters.
---