December 15, 2004
---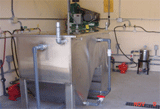 Location: Cary, NC
PROBLEM: This project was unique in that it was located in one of the strictest wastewater authorities in the state of North Carolina. During construction of a new wash bay facility, a major heavy equipment dealer/distributor enlisted our help to design and install a sewer pretreatment system.
OPERATING REQUIREMENTS: Required sewer pretreatment water recycling systems, 10-gpm flow rates with odor elimination; minimal system maintenance; fully automated filtration operation; large volume oil removal capability, heavy solids handling capacity, high-volume hot water pressure washing and 30-gpm demucking equipment.
SOLUTION: After visiting the site and talking with the service manager, we met with the local POWT officials who approved our Model VSD/SPT-10 sewer pre-treatment system for this location. This system is a complete self-contained system, capable of feeding up to 5 GPM to the pressure washer. It incorporates an extremely efficient patented filtration process utilizing fully automated solids filtration. The VSD series also comes standard with a corona discharge ozone generator to prevent odors. The clarifying oil/water separator section will remove all settable solids and non-emulsified oil from the waste stream.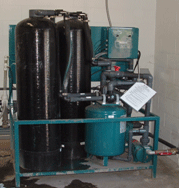 Following installation, we completed the permit application for our customer and coordinated the filing with the city officials. Due to the complex permit requirements, we met with the local POWT officials several times during the construction period. As a requirement of the permit, the city required a $3,000 non-resettable, non-contact water meter. After numerous communications, we convinced the city that a $800 unit would work just as well – saving our customer $2,200 on a water meter!
DATE INSTALLED: December 2004
RESULTS: The client is extremely pleased with the equipment and the overall relationship. We now help coordinate the permit-required monthly water analysis for our customer – and they have been well within compliance limits every month. In fact, the City of Cary dramatically reduced our testing requirements after a couple years due to the consistently good analytical results indicating low Oil & Grease and Metals' levels as well as low daily volume discharges.
PERIODIC MAINTENANCE REQUIRED: Averages 5 man-hours/month
ANNUAL PARTS AND FILTER COSTS: Approximately $1100
---