September 15, 2016
---
Used Demucker System
[highlight]Update: This product sold in April of 2019, call us now for a quote![/highlight]
This equipment has been re-furbished following less than a year's use at an industrial washing facility. It is priced to sell or available for lease.
DM-1000 Heavy Washing Demucking System
RE-FURBISHED – For Sale or Lease
DM-1000 Heavy Washing Demucking System has been designed and built for heavy industrial washing applications such as construction, mining and oilfield services.
Using fresh or recycled cold water, the DM Series demucker can quickly and effectively clean large trucks, dozers, steel tracked vehicles or any vehicle loaded with heavy mud, clay, or muck!
This demucking system uses only 20 gpm which is about 1/10 of the amount of water used in the traditional water monitors or water cannons.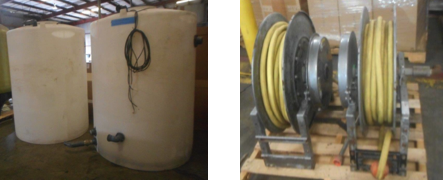 Standard Features:
Stainless Steel Frame
Emergency Stop System
NEMA 4X Control Panel
High-Efficiency Diaphragm Pumps
Pressure Gauge
Long range adjustable stream to cone, wand/gun assembly
Installs with other washing and recycling systems
Minimal Service Attention
Utilities required Power: 480V 3 PH 30 Amp
Approximate dimensions: 5' L x 2' W x 2' H
Additional Features Available:
SS Retractable Hose Reel
Remote Motor Control
Water Storage Tank
Call us at 800-453-8639 for pricing information.
Fast and effective cleaning while saving time and water – a win-win situation!
---