May 15, 2007
---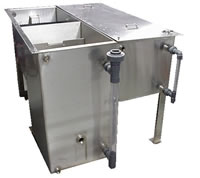 Location: Sanford, NC
PROBLEM:
A major truck services company was constructing a new wash bay at their facility outside city sewer limits. They enlisted our help to design and install a closed loop system so they could recycle the wash water.
SOLUTION: : After visiting the site and talking with the service manager, we met with the local POWT officials who approved our Model VR/SPT-10 closed loop system for this location. We then met with the design engineers and construction managers to develop and efficient wash bay design for their busy wash operations.
The VR/SPT-10 closed loop recycling system is a complete self-contained system, capable of feeding up to 10 gpm to the pressure washer. It incorporates an extremely efficient patented filtration process utilizing fully automated solids filtration and activated carbon (GAC) polishing filtration. The VR series also comes standard with a corona discharge ozone generator to prevent odors. The clarifying oil water separator section will remove all settable solids and non-emulsified oil from the waste stream. All features of the system are designed and constructed to insure superior performance and minimal operating requirements while delivering a superior quality wash water.
DATE INSTALLED: May 2007
RESULTS: The client is extremely pleased with the equipment and the overall relationship. We also provide a monthly inspection of the system which helps the service personnel maintain the system more efficiently.
---