October 3, 2017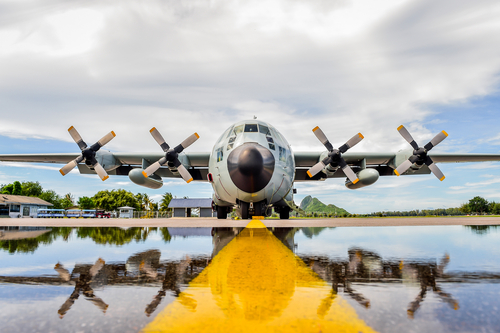 ---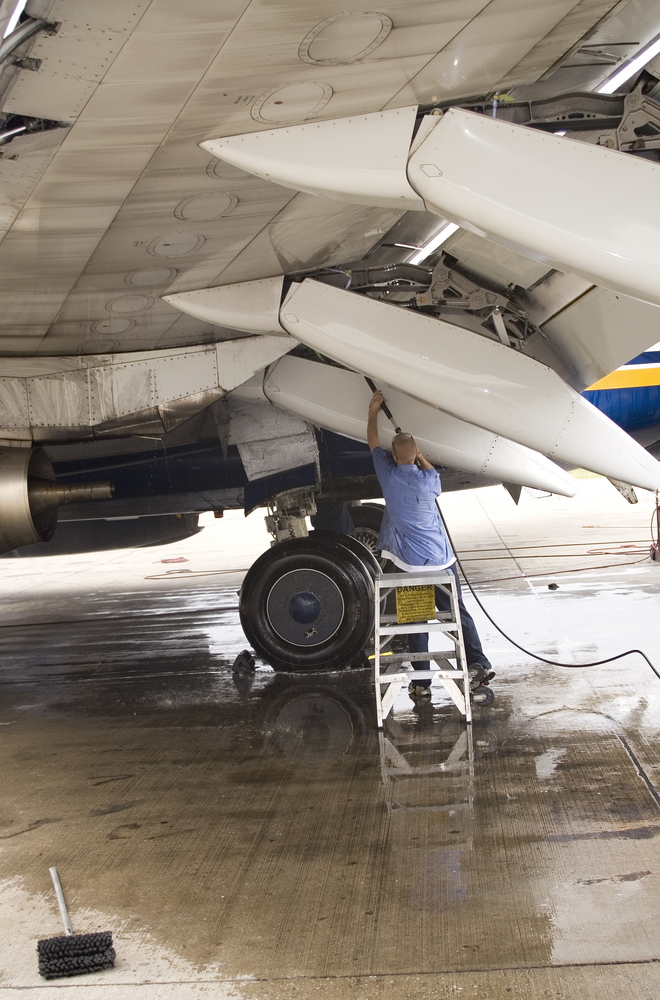 Since one of the company's owners has been a pilot and flying enthusiast for the past 40 years, we also have extensive experience with aircraft maintenance and cleaning applications. In addition to supplying washing systems to military bases all over the world, we have also provided systems to many aircraft maintenance companies stateside.
Manual Wash – The aircraft washing process is often a combination of foaming, washing and rinsing with either hot or cold water. Depending on the aircraft type and location, we can design a system based specifically on your application.
For the initial foaming, we offer a state-of-the art portable foamer with a chemical concentrate tank which can easily be moved to the desired location near the aircraft. The operator can select either hot or cold water from the remote switch at the reel. An injection system in the foamer blends the chemical concentrate from the tank into the water stream to create an accurately diluted solution. Compressed air is then injected into the solution to create a thick, clinging foam which is then projected through the discharge hose and foam nozzle on to large surfaces at distances up to 40-45 feet.
For washing and rinsing the aircraft, the operator can use pressure washer hose reel and gun assemblies normally located on both sides of the aircraft and select either hot or cold water. These pressure washing units typically provide approximately 8-10 gpm of water at 175-200 psi from each reel. They can be used separately or at the same time, and use either hot or cold water independently of the other. The flow rate and pressure can also be varied, based on your application.
The hose reel systems normally include remote control capabilities, and the system can be programmed to permit only foaming, washing or rinsing to occur at any one time so the maximum flow rate matches the water treatment system's capacity.
Automated Wash – We also have engineered turn-key automated aircraft wash systems designed to efficiently wash a wide range of aircraft. The systems can be programmed with a number of potential aircraft wash profiles which can be selected by the pilot or ground personnel using either a PLC with PanelView screen or remote control. As the aircraft approaches the wash area, an infrared sensor system automatically starts the selected wash program.
The wash system typically consists of a low pressure undercarriage wash, a fully-automated side wash system for the fuselage and wings, automated actuator valves for flow direction and control, a heavy-duty supply pump system, and water storage tanks. All components are either stainless steel or non-ferrous for corrosion resistance. The systems can be configured to wash with either recycled water or fresh water, and often incorporate rainwater control capability as well.
Water Treatment – Wash Bay Solutions designs closed-loop reclaim systems to capture, treat, store, and deliver clean recycled water to the pressure washers. If sewer connections are available, sewer discharge systems treat the processed water before it is discharged to the sewer.
Total systems can incorporate ozone disinfection systems, fully automated valves for filter backwashing, PLC control of all filter functions, and all non-ferrous components and hardware.
The recycling system can include a fresh water bypass manifold system that enables an operator to manually switch the entire system over to fresh water if necessary or desired. The recycling system will also automatically replenish itself to maintain a minimum volume of water to make up for any losses to the system from evaporation or carry-off.
Consulting – We are also available to do consulting work with aircraft washing facilities to improve their washing, painting and wastewater processing procedures.
---