Why Do I Need a VSD System?
The easiest way to eliminate any local or EPA environmental concerns is to treat your wash water. The VSD system will remove sufficient oils, greases and solids to meet the discharge limits for acceptable discharging into the sanitary sewer system. The VSD systems are designed for washing cars, trucks, buses, equipment and other vehicles with sand, dirt, oil, and other commercial/industrial surface layers.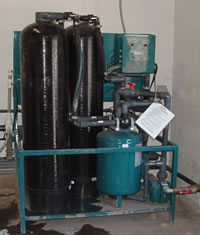 How Does the VSD System Work?
The VSD Series pre-treatment system automatically turn on when the wash water storage tanks reaches a certain level. It incorporates an extremely efficient patented filtration process utilizing fully automated solids filtration and activated carbon (GAC) polishing filtration. All features of the system are designed and constructed to insure superior performance and minimal operating maintenance and materials.
STANDARD FEATURES:
High-Efficiency Self-Priming Filter Pump
Multi-Stage / Multi-Pass Filtration
Solids Filtration
Carbon Polishing Filter
Low Operating & Maintenance Costs
Minimal Service Attention
OPTIONAL FEATURES:
Pre-and post-filtration for heavy solids removal
Corona discharge ozonation system
PLC control with remote monitoring
Complete system enclosure
Oil content monitor and alarm
pH control system
U.L. Listing
VSD SERIES SYSTEM SPECIFICATIONS
MODEL

VSD-5

VSD-10

VSD-35

VSD-65

VSD-100

FLOW RATE

5 gpm

10 gpm

35 gpm

65 gpm

100 gpm

FILTER PUMP

3/4 hp

1 hp

2 hp

3 hp

5 hp

INLET

2"

2"

2"

2"

2"

OUTLET

1"

1"

2"

2"

2"

WEIGHT (lbs.)

450

500

600

700

800

KW (max.)

3.0

3.0

3.5

4.0

5.0

FILTRATION

Multi-Media Deep Bed Filter

WATER POLISHING

Carbon Deep Bed Filter

DIMENSIONS

34" W X 66" L X 66"H

POWER REQUIREMENTS

208 / 240 V 1 PH or 208/ 240 / 480 V 3 PH
» Click here to request more information about this unit.